Zendaya's character in the series might not be as fashionable as the other main characters, but her outfit choices are gaining popularity among the fans. Besides, Rue's outfits are easier for you to recreate. A lot of girls try her laid-back style, especially for everyday outfits, and it will allow them to be effortlessly stylish. Keep reading to find some comfy Rue Euphoria outfits for your daily casual wear!
1. Brown coat
You can recreate Rue's carnival look with a long brown coat with black cropped tops and pants of similar color. Complete the ensemble with a pair of black sneakers to give a casual hint to the overall look. Add accessories like rings or glittery make-up to spice up and take your outfit to another level!
2. Oversized zip-up hoodie
Throughout the Euphoria series, Rue prefers to wear outfits that include a comfy maroon zipper hoodie on almost every occasion. You can copy her look by adding t-shirts and ripped jeans to look casual and effortlessly trendy. Opt for sweatpants if you're going for a more sporty look. Add a pair of sneakers to complete the outfit, and don't forget the accessories!
3. Baggy t-shirt
Baggy t-shirts are another piece of clothing you can wear to look like Zendaya's character in Euphoria. You can style the top in any way you like, such as pairing it with jeans for a classic look, combining it with linen pants for a new look, or matching the t-shirt with sweatpants to give a laid-back, sporty look. You can uplift your outfit by adding accessories like sunglasses, hats, or small jewelry to look nice.
4. Flannel shirt
Flannel shirts are another timeless outfit that everyone has in their wardrobe. Style your flannel shirt with a t-shirt underneath, and leave it unbuttoned to look relaxed yet stylish. Add your favorite trousers, like jeans or linen pants, to complete the overall look. For footwear, you can opt for casual sneakers or boots to give a bold touch. Don't forget to add some spice to your look with caps, sunglasses, and other small accessories!
5. Cropped sweater
Did you know that you can style a cropped sweater for many different looks? Combine the sweater with high-rise jeans to give a sweet and stylish look. Another way to style it is by mixing and matching the sweater with sweatpants for loungewear or sports occasions. For a day out, you can add a pair of classic sneakers, chunky ones, boots, or even sandals to look pretty.
6. Patterned pants
Patterned pants have become a big hit this year, and here are some best ways to style them. You can combine the pants with any top, preferably plain ones, like t-shirts, button-ups, sweaters, tanks, and several others. Mixing and matching the patterned pants with other patterned tops is also an excellent idea, but try not to go overboard with them. Complete the look with your favorite footwear, and you're looking fabulous!
7. Knitted crop top and jacket
Knitted crop tops are an excellent choice if you want to flaunt your belly and look give a sexy touch. You can layer the crop top with mesh bodycon underneath or add a jacket for cold days. You can also wear the crop top on its own! Complete the look with pants of your choice and spice up with accessories to take your outfit to another level. If you need some comfy outfits from Euphoria that can capture the beauty and simplicity of Rue Bennet, you shouldn't miss this one!
8. The 'businesswoman' look
Rue's professional looks like this one is another outfit you can copy for the next semi-formal occasions. Pair a brown blazer with dark-colored pants and ribbed tanks underneath to combine a laid-back and dressy look. Complete the outfit with her staple Converse sneakers to add another casual element. You can spice up the look by adding accessories like necklaces, rings, or sunglasses.
9. Zipper jacket
Zipper jackets are another outfit everyone owns in their closet. The easiest and most common way to style a zipper jacket is by wearing a shirt underneath them and adding a pair of pants, like what Rue did throughout the series. You can also mix and match the jacket with a t-shirt dress underneath to give a different casual look. Add some spice to your look with accessories like rings.
10. The detective look
This one outfit makes an excellent choice to wear to your next costume party! Combine a plain cropped sleeveless t-shirt with brown pants with suspenders to look convincing as an investigator. For the shoes, opt for combat boots to look more stylish, or choose a pair of sneakers to give a casual touch. Adorn your outfit with accessories like police badges or handcuffs to turn entirely into Detective Bennett.
11. Wrap vest and striped pants
The next look is Rue's outfit at New Year's Eve party. She wears a patterned wrap vest over a black shirt and pairs them with striped pants. The pattern combo is an excellent choice for a fun party. You can copy her look and make the outfit with her staple sneakers or other shoes of your choice. Throw in some bling accessories to give a fashion statement, and you look awesome!
12. Sleeveless tops and shorts
This casual and relaxed look is perfect for wearing on a warm summer day. You can combine a patterned sleeveless top with shorts for hanging out or other activities. Then, add a pair of sunglasses, hats or caps, and sandals to look effortlessly stylish as you're going out to enjoy the warm sun. Some outfits from Euphoria are not easy to imitate, but Rue Bennet-inspired dress are always simple!
13. Marble t-shirts
Rue wears numerous patterned outfits throughout the Euphoria series, including this marble t-shirt. For a casual look, you can pair the top with jeans and sneakers to look simply pretty. You can also add jackets or blazers to create an awesome layering look. Also, throw in some accessories to spice up the look!
14. Jeans
Throwing some accessories to spice up the entire look is an excellent idea if you want to look more refined and fabulous. You can take inspiration from this picture by pairing a cropped inner with an unbuttoned shirt and jeans. Complete the look with high-top sneakers and level up the look with necklaces and rings to give a refined and polished touch.
15. Colorful mesh tops
If you want to add a fun and cheery touch to the overall outfit, combine a colorful mesh top with a pair of pants. You can wear either black pants or casual jeans to go with the vibrant top and look gorgeous. Add sneakers or boots to complete the hangout outfit, and throw in some accessories to add bonus points to the look.
16. Rue's formal winter outfit
Creating a layered look is a bit tricky, but you'll look stunning when it's done the right way. To recreate Rue's look at the formal winter party, pair a corset with a blazer to layer the top. Add a pair of pants and patterned mini skirts to add a unique and eye-catching look. You can throw some accessories to level up the entire look and steal everyone's attention at the party!
17. Tanks and patterned shorts
Above-the-knee shorts are another staple outfit for Zendaya's character in the series. Besides pairing them with button-ups or sweaters, you can style the pants with a tank top for warmer days. Opt for a plain tank to tone down and balance out the pattern, or you can create a pattern combo. Add sandals or other footwear of your choice, and don't forget to accessorize!
18. Printed sweatpants
Do you need comfy outfits from Euphoria that can capture Rue Bennett's style? Try wearing this pair of sweatpants that'll keep you warm. It's an excellent option for physical activities like exercising, jogging, or meditating. Pair the pants with any tops of your preference, like tank tops, t-shirts, or hoodies. Add a pair of running shoes if you're going to exercise, or put on socks for a lazy snuggle day.
19. Tuxedo set
We all know that Zendaya often wears suits on numerous occasions, and to be fair, she's pulling them off and looks classy! Including her character as Rue in Euphoria, who wears a tuxedo set for a Halloween party. This costume is a great option if you want to look androgynous. Take a classic black and white tuxedo set and wear matching sneakers to give a casual touch. You can always spice up the look with accessories like rings.
20. The alien t-shirt
For a casual hang out, pair the oversized t-shirt with any pants of your liking. You can wear short pants for warm days or keep going with ankle-length jeans to rock the classic look. If the weather is windy or chilly, you can layer the top with a hoodie or jacket. Complete the look with sneakers or boots to look flattering and fabulous.
Another way to style button-ups is pairing them with sheer inner like this one. You can combine the tops with plain sorts or go a bit experimental with patterned ones. Finish the outfit with sneakers to create a casual look, or go for ankle boots to give a bolder touch. This outfit combination is perfect for heading out with your friends and looking stunning.
22. Cropped sweaters and shorts
Short pants match well with casual and laid-back tops, like this striped crop sweater for example. You can opt for the top with colorful stripes to give a pop of color that'll look fantastic and fun. For a more toned-down one, wear the classic monochromatic stripes and you're still fabulous! Add a belt to the pants to give a fashion statement. Complete with either sneakers or boots and little accessories to level up the entire look.
23. Metallic t-shirts
Throughout the series, Rue wears various oversized t-shirts, and this blue metallic one is one of them. You can follow the way she styles them with biker shorts for relaxing wear while staying at home. Another alternative is adding a belt on the waist, turning the t-shirt into a unique, one-of-a-kind shirt dress. Complete the look with sandals or high-heels to look stunning and fabulous. Add a little bling of accessories to complement the outfit.
24. Black hoodie
Admit it; most people own at least one black hoodie in their wardrobe. This versatile and comfy piece of clothing is an excellent option for you who want to look great while maintaining comfort. A black hoodie matches well with almost any type of pants, from classic jeans, sweatpants, and leggings, to patterned pants. You can also mix and match the outfit with various shoes, either laid-back sneakers or bold ankle boots. Accessorizing the look is also important to keep you looking fancy and stylish!
25. Knitted cardigan
Knitted cardigans are one of the most popular comfort outfits and are often worn for layering. You can pair them with t-shirts or tank tops to create an easy and fabulously comfy outfit. For the bottoms, opt for jeans and boots or sneakers to look astonishing. You can also add a beanie to complete the look.
26. Blazers
For those who love outfits from Euphoria with more mature yet comfy looks, this Rue Bennett-inspired blazer is perfect. You can give a twist to the look by wearing a t-shirt and jeans underneath the blazer to marry the formal and casual look. Complete it with sneakers, and you're looking effortlessly stylish! For a more refined look, replace the t-shirt and jeans with a camisole and linen pants.
27. Printed shirt with long sleeve bodycon
Besides black graphic or printed t-shirts, Rue often wears colorful patterned t-shirts layered with long sleeves underneath. You can easily recreate her look like this one by adding a pair of jeans or shorts for a casual hang-out with your friends. Complete the outfit with sneakers to look stunning and stylish. If you want to uplevel the look, add little accessories as fashion statements.
28. Red boilersuit
Rue's red boiler suit she wears in season two is arguably one of her best outfits in Euphoria. This look is an excellent choice if you're heading out to a costume party. You can wear this worker's suit with black high boots to create a powerful look or opt for casual sneakers. Throw in some accessories, like black sunglasses, to look more awesome.
29. Striped cardigan
Cardigans come in different styles and patterns. One of the most popular is the striped ones. You can wear a tank top underneath the cardigan and marry the look with pants or jeans. This simple yet stylish outfit is perfect if you don't have much time to get ready but still want to look flattering and gorgeous. Finish with sneakers or other shoes of your liking, and you will look great!
Are you looking for inspiration on how to style your Hawaiian button-ups? Take this look from Rue! Put a striped top underneath a Hawaiian shirt and leave it unbuttoned. The contrasting pattern can make you look stand out and fabulous. Complete the outfit with a pair of shorts or jeans. Add sneakers and other accessories to uplift the whole look!
31. Print combo
Similar to the previous one, mixing and matching different patterns in your outfit can be a nice way to look stand out and remain stylish. Similar to other Rue's outfits, this printed t-shirt is put on over a patterned mesh long-sleeve shirt to create a unique and fun look. Pair the top with black pants to tone them down, and add your favorite shoes to look effortlessly trendy.
32. Varsity Sweater
This oversized varsity sweater is a great choice if you're looking for a convenient outfit for cold days. Wear the sweater with jeans or pants of your choice to look effortlessly fashionable. Add a pair of shoes, like sneakers or ankle boots, to complete the whole look. Adding little accessories as fashion details never hurt, either!
33. Party Outfit
Throughout the series, we can easily spot Rue wearing different outfits in red. One of them is this party outfit silk set. Under the top, you can wear a bralette or a mesh top if you don't want to reveal too much of your skin. Add a belt to give a fashion statement to the pants, and finish with shoes of your choice. Opt for sneakers to look casual or boots to give a dandy and bold look. Spice up the whole look with accessories like rings, bracelets, and necklaces to look more attractive.
34. Bomber jacket
The bomber jacket is one of the best comfy outfits you can wear to look like Rue in Euphoria. Underneath the jacket, wear a graphic t-shirt or create another layer with a flannel shirt to keep you warm during freezing weather. Pair the tops with pants, and complete the look with high boots or sneakers. Add a beanie to give a cute fashion statement.
35. Biker shorts
Biker shorts are not only popular for exercising but also for daily wear, especially on hot days. Oftentimes, biker shorts are paired with oversized t-shirts to create a comfy look. Finish the whole look by adding a pair of black sneakers and sunglasses to enjoy strolling under the sun.
36. Waterproof trench jacket
Besides the hoodie, Rue often wears a jacket daily. You can copy her look by wearing a trench jacket over a t-shirt or a button-up. Complete the look with either fabulous jeans or comfy sweatpants. Add a pair of sneakers to look more flattering and stylish. Don't miss the accessories to make you look sophisticated and awesome!
37. No problemo t-shirt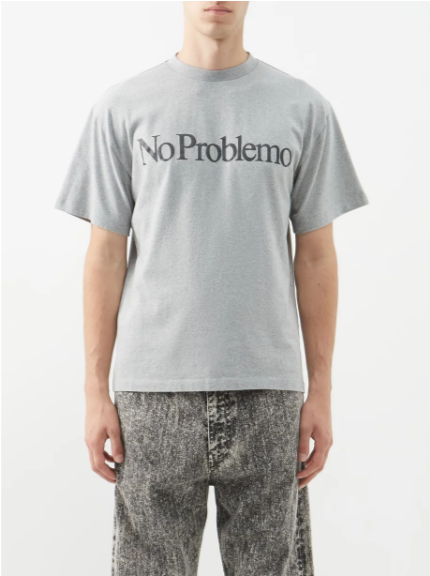 Rue's No Problemo t-shirt is another outfit you can style to your liking. This unisex t-shirt is perfectly paired with washed jeans to create a shabby yet still stylish look. You can also layer flannel shirts or zipper hoodies to look simply astonishing. Finish the whole look by adding a pair of boots or sneakers. Spice up with accessories like caps or sunglasses to look more gorgeous!
38. Crop top
You can style a cropped top alone or layering it with another outer, like hoodies, button-ups, or even vests. Wear high-rise pants if you don't want to reveal too much skin, or wear normal ones if you're confident with your belly and want to show it off. Add sneakers or boots, and you'll look outstanding. This is a comfy yet sexy ensemble, perfect for those who adore Rue Bennett's outfits and Euphoria in general!
39. Skeleton t-shirt
Another t-shirt from the series is this skeleton one. Similar to the previous ones, you can wear them with dark or distressed jeans to give a grungy vibe. Layering the top with hoodies or button-ups is also allowed to give an extra point to your look. Add a pair of sneakers to top the outfit off and rock the aesthetic.
40. RUE Bennet's Comfy Striped tanks
This striped tank top is an excellent choice if you need some comfy Rue Bennett outfits to complete your Euphoria collection. You can create a very different style by adding a layer of outer over the tanks and add ankle-length pants. Complete with sneakers to give the fun and laid-back touch to the overall look. You can also add necklaces, rings, or other knick-knacks to level up the entire look.
Final tips :
To dress like Rue Bennett from Euphoria, opt for oversized tops, preferably in darker colors.
Wear the high-top sneakers from Converse to copy Rue's iconic laid-back and effortlessly stylish look.
Accessories never hurt, especially if you add some simple bling to spice up the casual look.
Don't forget the make-up! Even though Rue doesn't wear makeup all the time, you can add some glittery look to some of her outfits, like her carnival outfit one for example.