When you think of the word skater girl outfits, you probably will imagine a female person that is in love with skateboards. While that might be partly true, the term might also apply to the booming fashion style in the late 80s and early 90s which is heavily inspired by the grunge subculture.
There is no standard rule about how to wear appropriate skater-girl outfits. Generally, they are comfortable, loose, and retro-looking.
Like we've said before, there's no rule as to what defines a great skater girl outfit, but we can still nudge you in the right direction! Please take a look at 30 of the best skater girl outfits that you can wear down below.
1. Long or Short Pants? Doesn't Matter as Long as It's Loose!
Let's start off our list of awesome skater girl outfits with something general that everybody can try first. Generally, any outfit might be considered a skater girl outfit as long as it's loose and catchy. Therefore, the most important thing is to find something that is comfortable for you, especially when you're going to ride that nice skateboard of yours!
2. Cropped Top will Make You Hotter!
Being a skater girl also means that you have the opportunity to show both your skating skills and beautiful body at the same time to other people. Hence, there is no better way to do that than to wear a cropped top that is paired with denim shorts. We guarantee that this skater outfit idea will make you the center of attention in any park you visit.
3. Cover Your Hair with a Cap
The grunge aesthetic, as people may call it, works best during the summer season. Consequently, that same period of the year is known for the high temperature. Perhaps, you can fit any shirt that you choose to wear with a simple cap. Not only will it make you look cooler, but it will also allow less exposure to the sun!
4. Or Wear a Colorful Beanie Instead!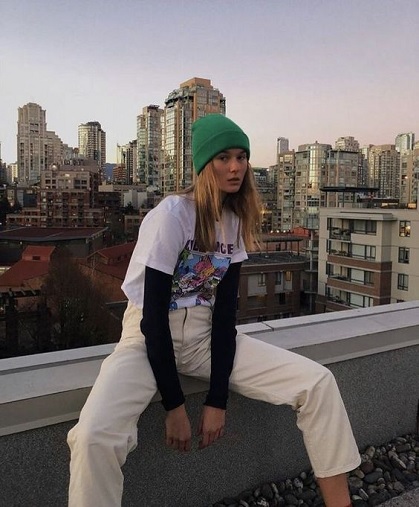 We don't really know why, but some people aren't quite huge with wearing caps. But no worry though, as there are a lot of headpiece alternatives that we can recommend for you. For the cold and relentless winter season, you might want to consider wearing a cute beanie. But try and find a colorful one that contrasts the color of your outfit to make it more appealing.
5. Double-layered Outfit
Most fashion styles in the past heavily relied on multiple outfits that formed at least two layers that cover your body. If you still want to wear a simple combination, then try and find an oversized shirt (a pictured one will be nice to emanate a retro vibe). Then, cover it with a simple denim jacket!
6. The 90s Grunge Style
We have discussed that some people wear skater girl outfits for fun and not because of their love for the titular sport. If you share that same feeling, then you might want to try the ultimate 90s style. Something as simple as wearing a white sports bra and pairing it with black pants might just be the answer to what you're looking for.
7. White and Gray Combination
Previously, we have seen how black and white combine pretty well. But it might seem a little bit too mainstream to some people. Don't worry, though! Retain the white sports bra, but ditch those black jeans and replace them with a pair of loose gray trousers! Down below, you can finish the combination with black sneakers.
8. "Be One" with the Skate Park
Did you know that skate parks are really beautiful for a lot of reasons? The graffiti, coloring, and overall ambiance are quite refreshing and unlike any other. Therefore, you won't find any better way to pay tribute to your local park than to wear skater girl outfits that are in tune with the skate park. A great way to accomplish it is by finding a set of outfits that have a similar color to your skate park.
9. Go Classy
Most of the time, you'll notice that past fashion styles tend to be classier and more complex than modern outfits that are more casual and simplistic. For skater girls who want to show lots of class while playing their favorite sport, you might want to explore the possibility of wearing miniskirts and long-sleeved shirts with matching colors.
10. All-gray Outfits
Wearing monochrome outfits is a really 90s thing to do! But make sure to avoid the obvious choice: black or white. Instead, you can consider wearing everything, including the cap that you're going to use, with gray outfits. It's simple, cool, and emanates both casual and retro vibes.
11. Black and Brown
Dark-colored outfits were really popular back in the 90s, which is why skater-girl outfits are great in said theme. A rather unconventional idea is to try and pair the color black and dark brown. Perhaps, you might be interested in wearing a black shirt with a pair of brown jeans!
12. Wear a Dark Green Cropped Top
We're not messing with you when we tell you that dark-colored shirts work really great as skater-girl outfit ideas. But instead of using the obvious browns or blacks, wear a dark-green shirt. For a further upgrade, ditch the sleeve trend and wear a tank top!
13. Wear Short Pants
To truly embrace the skater girl moniker, you really need to dress as if you're going to really skate in the park, even though you don't know how to do it! And the most essential and simplest thing to remember is to wear short pants, as athletes would not want long ones because the pants would obstruct their legs.
14. But Make Sure to Wear a Long-sleeved Shirt
Despite the comfort that you gain in wearing a short pair of pants, you might still want to balance it out by wearing a long-sleeved shirt up top. After all, hand movements aren't required as much for a skater. Furthermore, this combination looks dope and vintage as heck!
15. Wear ¾ Jeans
If you agree with us that wearing long pants obstructs some moves for a skater girl, but are too shy to wear shorts that are too revealing, then we can meet halfway by wearing ¾ pants. In fact, ¾ jeans are really aesthetic-looking. Try it out!
16. A Tanktop and Orange Pants
Do you know which are the best skater-girl outfits that will be great for you? A combination of wearing a tank top and a pair of orange pants! Make sure that the tank top is bright-colored as well because it will be able to balance out the magnificent orange pants of yours! Finish the ensemble by wearing black shoes.
17. Wear Cropped Plaid Shirts!
Plaid shirts, no matter what color they are, will always give out a retro and vintage vibe to their wearer. That alone is a good enough reason for you to consider it as part of the classic skater girl outfits. But for a more unique approach, try and wear a plaid cropped top!
18. Gothic-ish Style is Also Great!
Using goth as an inspiration for your skater girl outfits might just be a unique idea you can try. It's as simple as adding a fishnet mesh on your body as well as wearing a choker necklace! However, make sure that you still maintain vintage color like beige and dark blue.
19. Combine a Cropped Top with a Jacket
Cropped tops are really sexy and hot, especially for skater girls. But you can still kick it up a notch by adding an extra layer to that beautiful outfit. Perhaps, a denim jacket might just be the way!
20. Just Go Casual
Sometimes, people tend to overthink what skater girl outfits that suit them perfectly. They might be surprised that the answer is really simple: just be yourself and find something casual that is comfortable for you! If you love wearing a graphic shirt with jeans, then, by all means, no one's here to stop you.
21. An Oversized Hoodie Might Suffice
For those of you skater girls who are too lazy to wear multiple outfits at once, we've got just the perfect answer for you. Why don't you try on a pair of short pants and cover it with just an oversized hoodie? A bright-colored one will be great, as it will give out a cheerful 90s vibe that is really nostalgic.
22. Black and White Combination
Here comes the classic pairing that you've all been waiting for: the black and white marriage. This mixture really works well for any occasion, but you can still create a retro vibe with the right ingredient. Simply wear any casual white shirt and pair them with black pants and sneakers, and voila!
23. Black and Blue
Black is a universal color that really blends well with practically any color in the world. That's the reason why we encourage you to experiment it with colors like blue. If you happen to own a black tank top or sports bra, you might as well pair them with blue jeans!
24. A Denim Jacket Might be a Good Idea!
Wearing a denim jacket might also be a crazy yet incredible idea that we can serve just for you! In fact, you just need to combine it with shorts! For an upgraded retro look, you can wear some vintage varsity footwear to show off that 90s vibe.
25. Combine Any Color You Want
The fun thing when we're talking about skater girl outfit ideas is the endless possibility of combinations. You can even combine any colors you want to create a unique skater-girl outfit. Here's one: a blue jacket with a casual white shirt underneath along with a pair of black jeans.
26. Green and Black? Sounds Great!
Green is a bright and cheerful color, and black is often seen as a doom-and-gloom color. Yet, they both can mix well and create an awesome skater girl outfit idea. It'll be great if the green outfit is put on top so that you can balance it out with something dark down below. You know what, wear a green beanie as well!
27. White Shirt, White Socks
White shirts, white socks. That seems about right! In between them both, you can still wear contrasting outfits like a pair of black shorts. We guarantee you that this ensemble is cute and awesome enough to attract people's attention in any skate park you visit.
28. All-black Outfit
Who says that you can't show positive energy whilst wearing an all-black outfit? In fact, most skater girl outfits heavily rely on black outfits, so why not create an ensemble that consists solely of the black outfit? It will be even better if you also have a black skateboard as well.
29. Brown and Green
People might ask you to try and avoid wearing two different bright outfits at the same time. However, you might just get away with wearing a combination of a brown sweater and green trousers as one of your skater-girl outfits. In fact, this ensemble truly embodies the meaning of the 90s fashion style.
30. There's Nothing Wrong in Wearing Thick Outfits
Although people tend to enjoy skating more during the summer, nobody can ever forbid you from doing what you love during the cold winter. But be prepared with the breezing wind, though! Perhaps, you can feel enough warmth by wearing thick outfits!