Every few years the trend for wearing spaghetti straps (or vest tops) over a tee shirt comes back around.
A great nostalgic throwback to the 90's and styling camisole over shirt.
Even though I remember the 90's trend first hand, I still like the look.
And, of course, in Scotland, the practical side of layering is always a bonus!
I think that spaghetti strapped dresses (and tops) look great over fitted short sleeved (and long sleeved) fine gauge t-shirts.
I especially like the look over a delicate roll neck.
(I need to save that one for the autumn though)
Today's casual outfit was all about layering, and mixing cool and warm tones together.
I wanted to wear my orange camisole again (last spotted here) and layer this slightly sparkly blue tee-shirt underneath.
Super soft skinny jeans were the perfect partner for a comfortable look.
I really wanted to wear these silver sandals again too (see them here with a tartan tee).
They are made of the softest leather with a leather sole and a quality finish.
Silver in colour, with a slightly holographic sheen.
They really caught my eye.
I bought these shoes while I was in London and they were just meant to be mine.
They were the last pair in the shop (which was closing down).
It was fate!
Reduced from £120 to £14.
Yep, the princely sum of £14.
Buying a couple of coffees (and cakes) was more expensive in the city.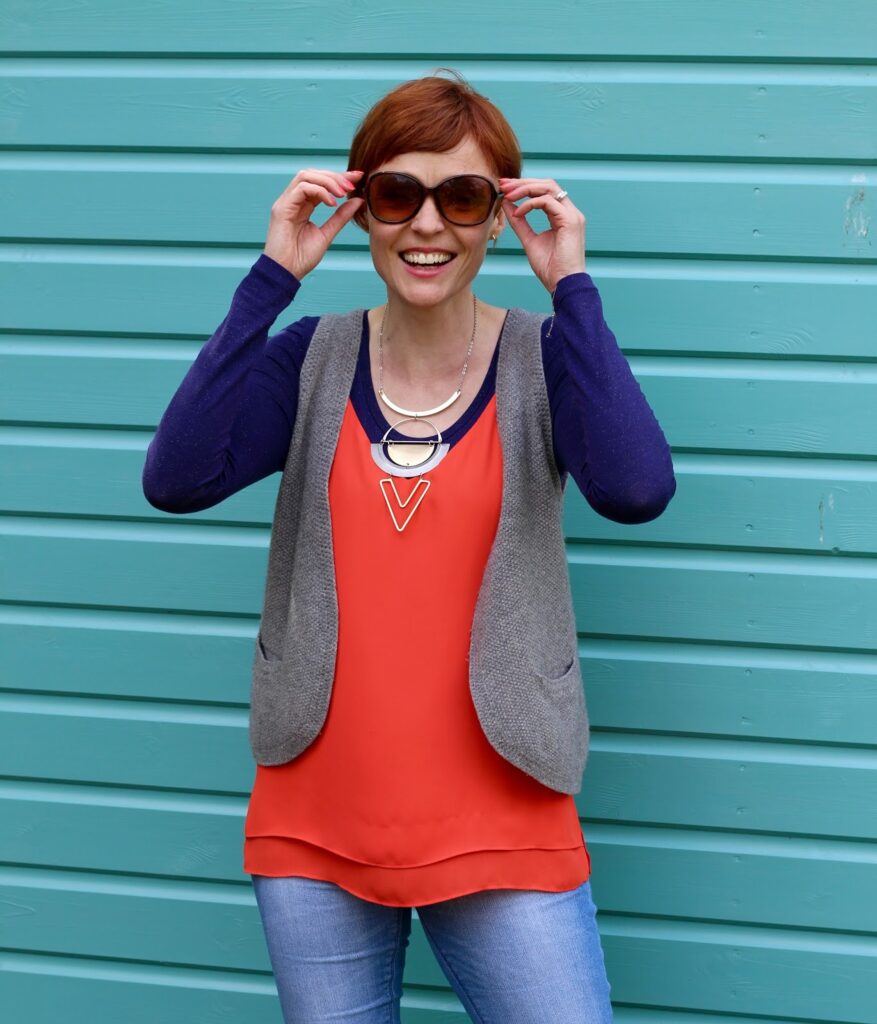 Silver shoes can jar with warmer tones (like orange) so I popped on my little grey waistcoat to help pull them together.
Adding a chunky silver and gold necklace helped make the colour clash look intentional, not like I just grabbed the first cardi in my cupboard!
Gold studs and orange nails, finished my look off perfectly.
WHAT DO YOU THINK OF THE CAMI-OVER-TEE LOOK?
IS IT SOMETHING YOU ARE GOING TO TRY/LOVE WEARING?
OR, ARE YOU SITTING THIS ONE OUT?
Please leave me a comment.
You know I love hearing your thoughts!
JEANS: Falmer (similar)
CAMISOLE: Asda (similar)
WAISTCOAT: The White Company (this tailored one is cool)
NECKLACE: H&M (this chunky one is nice)
LONG SLEEVED TOP : M&S …this one is lovely and comes in other colours too!
SHOES: American Apparel (these are pretty)
GLASSES: Primark (these are lovely)
NAILS: Max Factor, or get it here