I started flicking through a glossy magazine today…
The imagery was beautiful but the outfits were eye-wateringly expensive and sometimes simply UGLY (and not in a good way).
Then I turned the page…
Suddenly I felt a warm and fuzzy fashion-loving feeling.
A trend I could embrace wholeheartedly.
The SUPER cardigan.
Of course, my love of a chunky cardigan goes back, well…. for 40 years at least!
BUT these super cardigans are not just chunky they're bright, bold and (best of all) edgy and trendy.
Hahahahaha.
An 'edgy' cardigan?
Who'd have thought it was possible?!
The cardigans featured in the magazine were from the likes of…
Hayley Menzies
Pinko
Essential Antwerp
Ganni
Kitri
Rouje
BUT…
And it's a big but.
Most of them looked like pieces you could find in a charity shop, or at the back of your grandma/grandpa's wardrobes.
If you love the look and want to give it a go, save your pennies and scour the secondhand shops instead of splashing the cash.
Size up a couple of sizes and you've nailed it!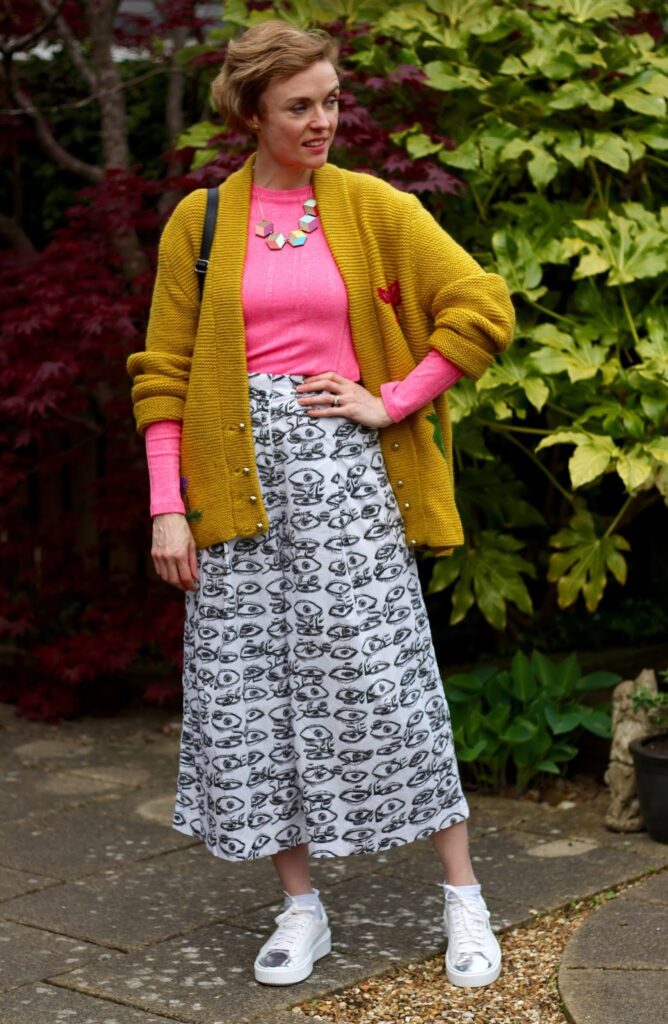 For me, the most important thing that makes a trendy cardigan look 'trendy' (as opposed to frumpy) is to keep the rest of your look cool and casual.
Thrown-on and effortless.
If you're happy to mix prints and colours then all the better!
I love the outfit I'm wearing today.
All my favourite elements in one comfortable look.
This Super Cardigan trend is one I'm happy to jump on board with and I'm going to have fun experimenting.
Cardigans as jackets.
Perfect for a summer Scotland!
I've worn chunky cardigans A LOT here at fake fabulous.
Here are a few outfit ideas you might enjoy:
What do YOU think of this trend?
Are you keen to jump on board, like me?
Or do you think cardigans are frumpy?
I'd love to know your thoughts.
LEATHER SHOES: Puma
WOOL CARDIGAN: Handknitted and found in a charity shop for ONE POUND!
NEON TOP: Newlook
NECKLACE: Tatty Devine
LEATHER BAG: Clarks