How do you solve a fashion mistake?
Despite having a great eye for a bargain, and the ability to find a real gem in a sea of rubbish, I still (quite often) make glaring errors when purchasing clothes.
Usually it is because I love the look or the idea of an item (quite often influenced by an image of an 18 year old, size UK 6 with perfect skin and endless legs).
I temporarily lose my grip on reality and think that if I buy said item I will (by some miracle) end up looking like the model in the picture.
What a Fool!
I had bought a beautiful silk dress in a Charity (thrift) shop and just HAD to have it for the wonderful muted autumn colours, unusual pattern and wispy nature of the fabric.
Unfortunately, there were a few problems…
It's far too loose on the waist.
It clings in the wrong places.
It's too short for the weight of fabric…. a bum display in a gust of wind is not cool!
It's unlined and without any structure.
It's so thin that you could spit peas through it.
All-in-all a bit of a disaster.
Then there was a green midi-length jersey dress that I paid too much for (stupid money for what is, basically, a long vest top) and can't wear because:
I look NOTHING like the model in the brochure.
It is too tight (EVERY flaw is on full display…even a tiny wrinkle in my underwear!)
It's unlined.
It has a strange cut at the neck/shoulders which makes wearing a decent bra impossible (not a good idea, especially over 40).
Oh dear…two depressingly useless items staring out of my wardrobe and gathering dust 🙁
I decided to take action!
Thinking outside of the box I decided to put my well-practised layering skills to good use and get these items together.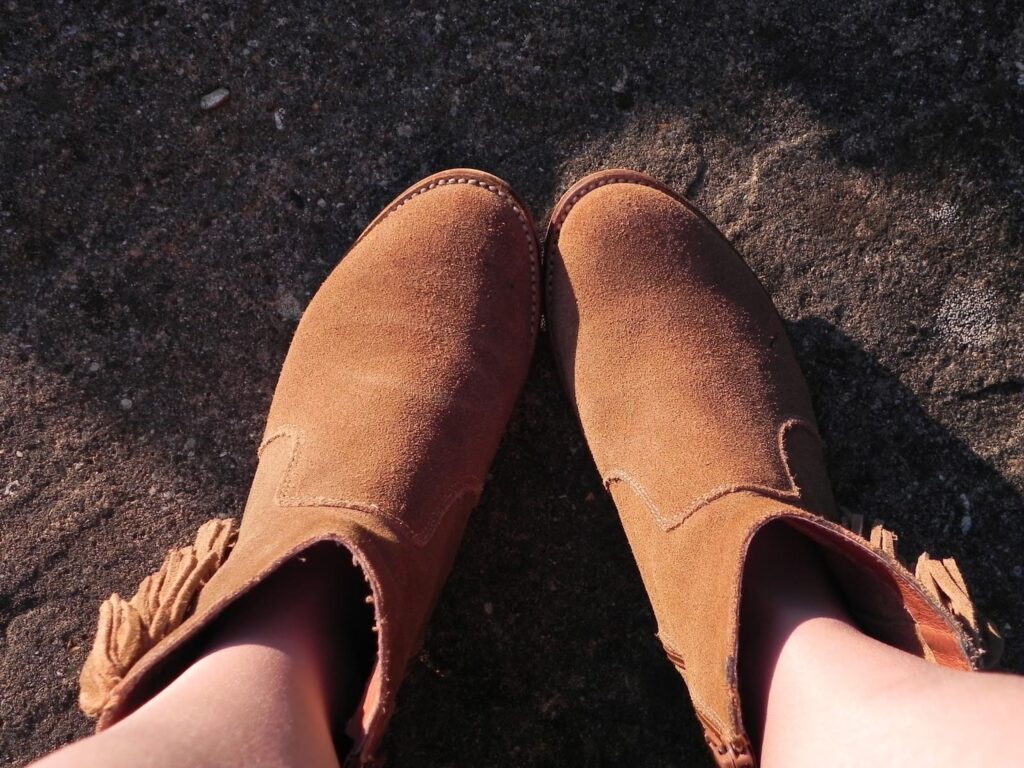 This called out for major pattern mix.

And I felt a jungle vibe….."In the jungle the mighty jungle the lion sleeps tonight!"

I stuck with a muted colour palette (also making me think of autumn, my favourite season).
The weather today seemed to reflect my mood.

First, I needed a belt for the ill-fitting waist on the silk dress.
This leather one is a firm favourite of mine and is thick enough to give some shape but soft and comfortable.
I then reached for my trusty Topshop vintage jacket (which I wore HERE) and just seems to give everything a lift…putting a happy spring in my step.

My cute little fringed cowboy boots, a grab bag and plenty of rings finished things off nicely.

Do you have items lurking in your wardrobe, unworn and gathering dust?
Could you re-work them by layering?

Please let me know in the comments.
XXX

Silk Dress: Nicki Plowman
Bodycon midi-dress: Baukjen
Leather Belt: Topshop
Boots: M Originals
Bag: Hidesign
Jacket: Topshop