Some schools have tight rules about dress codes and what to wear in the area, while others might be a little bit more lenient. If your school offers the freedom to wear any outfit you'd like, then you have to take advantage of it. After all, it will be the best time to look cool and attract other people's attention (appropriately, this is still a school!). So, if you are looking for the best schoolgirl outfit, check out our list below!
There are a lot of ways to approach a schoolgirl outfit, depending on the style you'd prefer. You can look cute, nasty, pretty, or even mean! On our list below, we're going to help you pick the best schoolgirl outfit for you! These are specially curated ideas that have always worked, so make sure to pick one!
1. Wear a Long-sleeved Shirt
A school is a public place that won't tolerate inappropriate outfits. If you'd like to play it safe, then there's no other way than to wear a long-sleeved shirt. It will also be perfect for those of you who'd like a calmer outfit and don't want to stand out at school. Any color will be fine, but we'd recommend something natural like brown or gray.
2. Well, Short Sleeves are also Fine!
If you follow our instructions, short sleeves will actually be great to wear at school. The most important thing is to avoid revealing your body too much, something that a normal tee won't do. For a colorful mood, you can consider wearing a pink shirt that is paired with gray or light blue skinny jeans.
3. Wear a Matching Tie
Even though your school does not regulate your outfit choice, it doesn't mean that you can't wear a cute cool schoolgirl uniform! It'd be like a cosplay. Before diving any further, we need to set the record straight: wear a tie that matches the color of your overall attire. If your outfit is made up of various colors, make sure to at least match it with your skirt or pants.
4. The Mean Girls Outfit
Mean Girls is popular for a lot of reasons. The iconic outfits in the movie are very interesting so you should try to emulate them. For example, this outfit is also great to wear to a real school, and many people have tried it!
Let's start with your shirt. Find something bright, like red or pink attire. Long-sleeved shirts will be preferable, as they will resemble the outfit from the movie much better. Then, you can also wear plaid skirts and high heels!
5. Dark and Bright Outfit
On some occasions, combining attires with contrasting colors might be a mistake that you'd want to avoid. However, this cute schoolgirl outfit idea deliberately uses this exact unusual combination.
Start by finding a white shirt (a traditional choice for a schoolgirl outfit) and a red skirt as its pairing. Then, you can cover your upper half by wearing a black cardigan or jacket. It might not be an obligation in some schools, but wearing a tie might make you look tidy and presentable. So, make sure to wear one that matches the color of your skirt!
6. The Hot Student Outfit
Yes, we do know that some girls might want to avoid wearing a hot schoolgirl outfit, mainly to avoid being called to the principal's office. However, you can still look hot without crossing the line.
Wearing a cropped shirt might be a good idea, provided that you can cover it by wearing something extra, like a cardigan or suit. Down below, you can wear a plaid skirt. Finish the combination by wearing a pair of black sneakers with long socks. Megan Fox looks really cool in this outfit, right? We bet that you can too!
7. Long-sleeved Shirt with Skirt
Typically, girls would like to combine a skirt with casual tees, resulting in a really simple yet awesome look. What you don't know is a shirt can also look good when paired with the right skirt. Yes, it might not result in something casual, but this combination will make you look cute!
A white shirt and gray skirt might look good on their own. However, you can be a cool student at school by wearing a pair of black boots and sunglasses!
8. Cropped Shirt and Plaid Skirt
There are a lot of ways to look cute with schoolgirl outfits, and we're taking a look at a way to do that. If you're a bit braver in your outfit selections, we might ask you to consider wearing cropped shirts to school. Then, you can pair it with a green plaid skirt! This way, you'll have a unique look that still looks sexy but still appropriate.
9. Red and White Outfit Combination
Yes, we have discussed the possibility of wearing a red and white combination before. But previously, the idea revolves around you wearing a red skirt and white shirt. Now, let's try and switch both roles!
Up above, you have the option to wear a nice, red shirt that you own! A short sleeve shirt will be great for those of you who like to do a lot of activities, while a long-sleeved shirt will create a shy-girl persona! Then, you can combine it with a white skirt.
10. Blue Shirt with White Skirt
A blue shirt, when combined with something bright like a white skirt, will always produce a calming and simple vibe that is so nice to wear (and see). Therefore, we highly recommend that you try this combination out. We've noticed that a lot of people love this combination, so an ensemble made out of a blue shirt and white skirt will never hurt! You can even wear your favorite white sneakers as well!
11. Wear a Plaid Shirt
A plaid shirt might seem a little bit old-school to some people. Fortunately, there are some simple ways to make it look cool, especially for your schoolgirl outfit!
First things first, try and find a plaid shirt with a rather bright color. We highly recommend the combination of red and white. Then, simply mix it with dark blue jeans. Girls who still love to wear colorful bags might love this idea, as they can have a matching shirt and bag!
12. Wear a Ruffled, Short-sleeved Shirt
It's a little bit odd and rare to find a ruffled shirt. After all, they are normally made in the form of dresses. However, we can't deny that a ruffle shirt can look good as a schoolgirl outfit, and that's the reason why you should consider it! Consider wearing a green one, as it will definitely emanate something calm and relaxing at the same time.
13. Cover Your Shirt with Denim Jacket
Yes, wearing a plaid shirt is a nice idea when you're going to school, and we have explained the reason why. Still, you can do something to make it look even better! Perhaps, covering it with a denim jacket might be a good idea!
While the two combinations work well, you might want to be careful about choosing the right pants. We do recommend that you wear black or brown pants. Although they contrast each other in color, the result will look pretty awesome.
14. Wear an Apron Dress
It's a great idea to wear an apron dress and make it your primary schoolgirl outfit. Despite its complexity, wearing one might create a vintage look and vibe that is both elegant and classy. You can even pair it with a striped shirt. The result? A beautiful ensemble, worthy of inclusion on this list.
15. Multi-layered Outfit
If you really want to avoid wearing inappropriate outfits, then make sure to wear as many attires as possible (ha!). However, it's important to pick the right outfit and not just chuck every piece of clothing that you own on your body.
The easiest way to do that is by wearing outfits of the same color. If, say, you want to wear yellow outfits, then make sure that your shirt, skirt, and vest all match in color! You can still wear a white shirt as the basis of the clothes, though.
16. Long-sleeved Shirt with a Minidress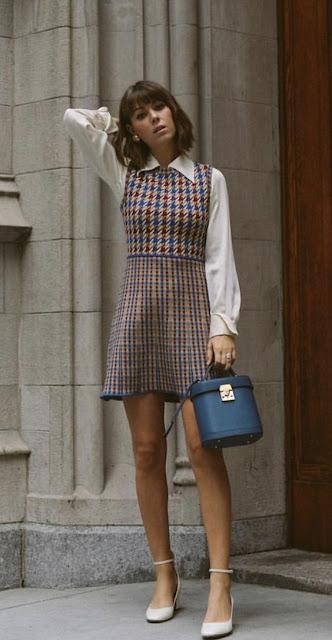 Normally, people tend to combine a white shirt (both long or short sleeves) with shorts or jeans. This time, we want you to think out of the box. Yes, you can cover the white shirt by wearing an extra outfit in the form of a mini dress. It results in a truly magnificent and elegant combination!
A student will want to wear/carry accessories needed for tasks at school. That's where a small purse or bag came to play! Plus, you can also wear heels, provided that you don't mind the challenges when walking through the corridor.
17. A Plain Shirt will be Enough
All schoolgirl outfit ideas aside, people still need to remember that the sole purpose of going to school is not to be the Belle of the ball. Instead, you're there to learn. If you don't want to stand out, then a simple shirt (paired with simple denim jeans) will turn out to be the right formula for you.
18. Black and Yellow Outfit
Black is a natural color that fits perfectly with any other color that you decide to wear. Try it alongside yellow attire and it will create a really adorable combination. The idea is simple, and it revolves around you wearing a black jacket or cardigan, paired with a yellow (could be plaid or plain) skirt.
This outfit ensemble is great for those of you who are looking to create a cute schoolgirl persona, so make sure to try it out.
19. White and Plaid Skirt
You might be wondering: "why are there a lot of schoolgirl outfit ideas on this list that revolves around wearing a white shirt?". Well, the answer is simple: it's because most schools usually ask them to wear one! So, let's pay tribute to that general rule, shall we?
Now that we know the main part of your outfit (wearing a white shirt), let's try to come up with the right pairing. We really recommend a plaid shirt with a darker tone to accompany it, as it will emanate a casual yet cute vibe.
20. Once in a While, Wear a Hat!
Most schools will always ask their students to wear their hats on some occasions. Well, there's nothing wrong with this. As a matter of fact, we really thought that it would look good on you! No matter what outfit you decide to wear during the day, try to put a hat on, even when it's not an obligation!
21. Halloween Schoolgirl Outfit
Girls who have graduated high school can still relieve their golden moments. For starters, a Halloween party might be the perfect event to do that. For this celebration, you might be free to express yourself via your schoolgirl outfit.
You can even wear something sexier than a normal schoolgirl can. To do that, you can wear a see-through cropped shirt with a black bra underneath. Then, pair them with a plaid skirt! You also have the option to wear bandanas or headpieces as extra add-ons.
22. White and Beige
If your memory serves you right, you might have recalled our discussions regarding the beauty of combining a white shirt with something dark. As good as it seems, you still can't discount other options. Just try combining white with something that is more similar in nature, like a beige skirt. We dare you to say that it looks bad!
23. Cover the Outfit with a Beige Sweater or Cardigan
When thinking of a great schoolgirl outfit, you really want to include at least one beige outfit in the conversation. After all, it is really awesome and simple at the same time. Plus, it tends to emanate a calming vibe to people around you.
Previously, we have been talking about the possibility of wearing a beige shirt. But what if you want to make that color the main highlight of your outfit? No problem! Simply wear a beige cardigan or knitted sweatshirt, then pair it with a black skirt.
24. All-black Outfit
At last, we have come to this awesome idea, the all-black schoolgirl outfit. This time, we're going to make it simple for you. In fact, all you need is a simple black minidress to go to school. If you want to wear an extra accessory, we can recommend a brown belt for your waist.
An all-black outfit doesn't necessarily make you a doom-and-gloom type of person, as there are a lot of people who are cheerful and fun and love to wear this type of outfit. So, make sure to try this combination out!
25. Cropped Tee with Beige Shirt
A cropped shirt or crop top on its own might not be a great idea for a schoolgirl outfit. However, you can make it all work out simply by adding another layer to your ensemble. If you are planning on wearing a white top, then a beige shirt will be a great idea! Together, they will create a casual look that is perfect for any schoolgirl.
26. Calm and Elegant Style
A popular girl like you might be picky when you want a schoolgirl outfit. One day, you might go for the wild and hot look, while the calm and elegant persona might be perfect for another. For the latter, you can try out this combination: a mixture between a white shirt, a plaid skirt, and a black vest.
Despite the awesomeness that this combination presents, you can still make it look even better with the right accessories. Up above, you can wear a brown hat and a pair of sunglasses, while boots with long socks complete the ensemble from down below.
27. Plaid Shirt with Cropped Top
The possibility of mixing and matching a cropped top with other attire is really endless. Truth be told, a plaid shirt can even look good when paired with a cropped shirt. You don't even need to find a pairing with matching colors. As an example, you can wear a white cropped shirt and pair it with a dark blue plaid shirt!
28. Gray Sweatshirt and White Shirt Underneath
Some girls wear a sweatshirt because they aren't prone to cold temperatures, whereas others wear it to look stylish or cute. Heck, you can even go with the shy girl persona when you decide to wear a sweatshirt.
Here's what you need: one gray knitted sweatshirt (any other color will be fine as long as it's not too bright or fancy). Then, you need to wear a white shirt inside. Finish the combination by wearing a plaid skirt or shorts.
29. The Awesome Cheerleader
In most high-school romance movies (or even in real life), the popular girl in the school also tends to be a cheerleader. That's how highly regarded this "profession" is. If you love to cheer for your school's sports team, then make sure to wear a cheerleader outfit! Heck, you can even wear it outside a competition.
30. Wear a Rainbow Shirt
As a student who is preparing for her future, you need to feel happy during classes and lessons. Perhaps, wearing the right schoolgirl outfit might help improve your studious mood. To further represent your current mood, we suggest wearing something bright and cheerful as opposed to something dark. Hence, the idea to wear a rainbow shirt came! It can even be paired with blue jeans for an even better mixture!
31. Brown and Black
How about trying a combination of brown and black clothing for once? For a schoolgirl outfit ensemble, these two colors will definitely produce something magnificent and simple at the same time.
You can wear a brown plaid shirt up above. Then, as many schoolgirl outfits do, you can wear a black skirt down below!
32. Vintage Schoolgirl Outfit
When it comes to fashion sense, something old and vintage might be revisited and be deemed as cool. That same rule also applies to the schoolgirl outfit. Once in a while, it feels good to take a trip down memory lane and wear vintage-style schoolgirl outfits.
Yes, a retro outfit might be great, but which one? Perhaps, something that is made up of bright attire that is not too revealing might look the part. Try a combination of a red shirt, skirt, and a nice old-school hat! Plus, you can also cover your leg with red stockings as well.
33. Blue Hoodie, Blue Jeans
After talking about a monochrome outfit in the form of an all-black ensemble, let's talk about some other alternatives, shall we? This time, we're not recommending an all-white outfit. In fact, an all-blue schoolgirl outfit will feel better suited for the occasion.
If you're interested in the idea, let's run through the outfit requirements. Let's start by wearing a blue hoodie or sweatshirt, which is going to make a calm and casual impression. Then, pair it with ripped jeans!
34. Plaid Skirt and Tie
There are a lot of instances of wearing schoolgirl outfits. Besides Halloween, you can also use them for dramas, class reunions, and many other fun occasions. If you don't have access to your old uniform, then you can still find similar models in the market.
If you choose to browse the market for schoolgirl outfits, then make sure to find a simple model that won't look too fancy. Another tip is to find one that has a matching tie and skirt!
35. Blue Jeans, But with Green Hoodie
All good things must come to an end, even our list of schoolgirl outfits. However, we're not parting ways without giving you one final tip! Plus, it's an easy one, especially considering that we're going to use a part of the idea from the previous one.
We're still asking you to wear a sweatshirt/hoodie and pair it with ripped jeans. But instead of wearing a monochrome outfit, why don't you change it up a bit? As a matter of fact, a green hoodie will look great with light blue jeans!
Latest post: