Day wear to Dance floor in minutes! Here is a very quick and easy work to party outfit.
All you need is a simple "Party Kit" that you can either take to work on the day, or keep in your locker or at your desk.
My EMERGENCY Winter party kit includes:
Party shoes
A beaded clutch
Quality opaque tights (as a spare)
A belt
Earrings
Lipstick
Mascara
Blush
Hair wax
Concealer
Good quality facial wipes
I started off the Day like this… See the full post here.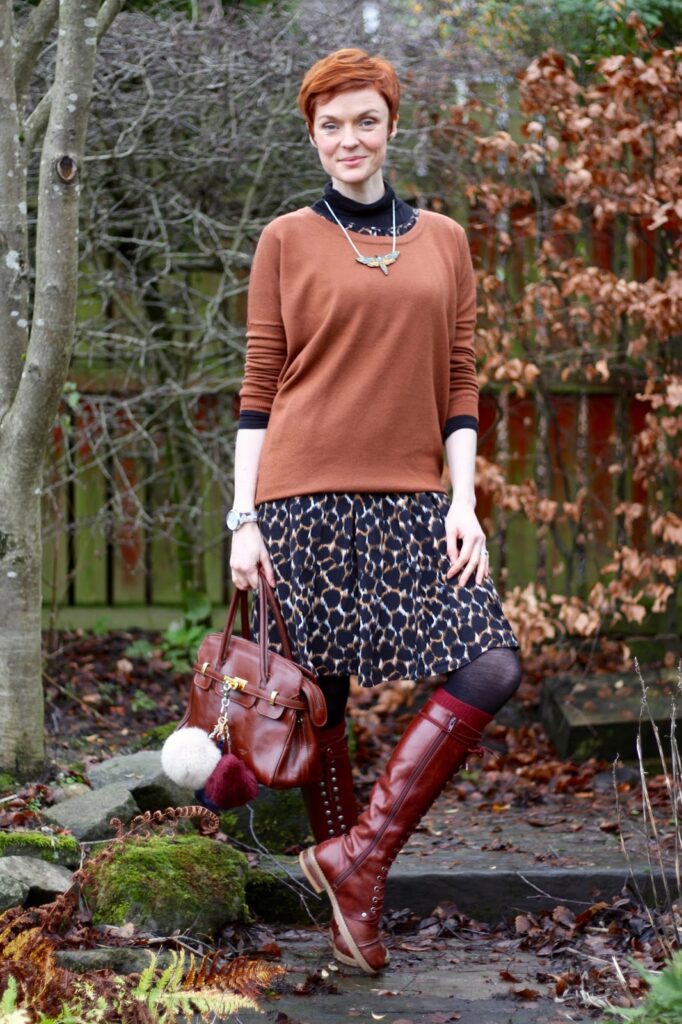 Casual and comfortable.
You can easily modify this look to suit your work environment.
I know some workplaces are much more formal than others.
I am lucky enough to wear whatever I want, hence my favourite boots!
A more classic boot would completely change the look, and feel, of this outfit.
I needed a super-quick turnaround time.
5 minutes to change, then out the door to have fun!
I quickly popped to the ladies to slip off my jumper and polo neck (which was under my dress).
I then removed my boots and socks and put on these chunky, velvet, beaded heels.
They are real party shoes!
See them styled here, for a wedding.
As you can see in this shot….it was VERY windy when we took these photos!
I chose a wide, patent belt to bring a different texture to this simple look.
My beaded clutch added another pattern and some more interest, without too much effort!
These large tassel earrings were the perfect finishing touch.
Two minute Party makeup:
Forget about reapplying a base, you will only end up chalky, emphasising any wrinkles and dry patches you may have.
Tidy up any mess around your eyes with a makeup wipe.
Reapply mascara. A couple of coats looks great.
Apply some light concealer to any dark circles, spots or redness….don't over do it though!
A cream blush can give a pretty glow (this Chanel one is fantastic! Pricey but worth it)
Add a statement lip! It is the easiest to make a daytime look instantly glamorous.
To finish off my five minute look I used some hair wax/paste to 'mess up' my crop.
Perfect hair is so old fashioned, If in doubt be slightly tousled!
If you had 5 minutes to get ready for a party what would you do?
Please let me know in the comments…or tweet me @samantha4blair
Dress: Boden (old) this one is similar. This is their new version.
Tights: Falke
Earrings: Unknown (these are lovely)
Clutch: Primark (this one is nice and on sale…quick!)
Belt: Coast (old) This one is similar
Shoes: Kurt Geiger (I am a little bit in love with these!)